Mintzbergs Managerial Roles Essaytyper
Rabbi's book simplifies Ten Commandments for children
Published: Thursday, 30 November 2017 10:00
Written by Marcia Horn Montgomery, Contributing Writer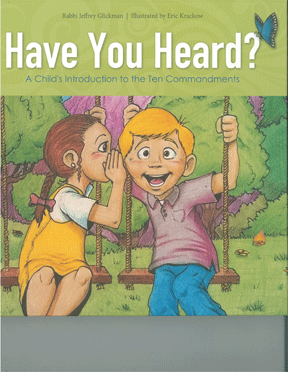 "Have You Heard?" by Rabbi Jeffrey Glickman, 10 color 
illustrations, 32 pp., Schiffer Publishing Ltd., $14.99
Explaining the Ten Commandments to a child can be difficult, but Rabbi Jeffrey Glickman makes it easy in his new book "Have You Heard?" Translating each commandment from the original Hebrew, Rabbi Glickman pares each one to its very basic premise.
Formerly a rabbi at Temple Adath Joseph in St. Joseph, Missouri, where he served from 1989 to 1995, Rabbi Glickman is now in his 23rd year at Temple Beth Hillel in South Windsor, Connecticut. He said he loved his years in St. Joseph, where three of his children were born.
Although he was made an honorary member of Temple Adath Joseph, he said he is a paying member because he wants to support the congregation.
He and his wife Mindy, between the two of them, have seven children ranging in age from 17 to 30.
This is the 57-year-old Reform rabbi's first book, but he has 24 board games on the market, all based on his sermons.
The book is for ages 5 to 8 and is one that Rabbi Glickman hopes children will want to return to over and over, whether they can read or not, and show it to their friends. The illustrations, by Eric Krackow, convey each commandment as Rabbi Glickman presents them.
"The artist went so above and beyond what I ever imagined for these pictures," said Rabbi Glickman. "They're so simple that they just warm you in the right places."
Plus, there's a little surprise in every picture — children (and adults) will have fun looking for it.
The children's text is in big, bold letters and Rabbi Glickman begins each page with "Have you heard?" For example for the fifth commandment, honor thy father and mother, he writes: Have you heard? Your parents are a part of you.
That's what the parents read to the child out loud. The smaller print at the bottom of each page is for parents to read to themselves, giving them tips on how to explain to their child what this means.
"I don't want this to be the book talking to the kid; I want the parents to talk to the kid," Rabbi Glickman said. "I want the parents to look like they're the heroes, like they're the ones who know — not that the book knows."
There are a lot of adults entering into parenthood who know there's something good about religion and want to teach it to their children, but don't know where to start, Rabbi Glickman said. What comes to mind are the Ten Commandments.
But how do you explain "Thou shalt not bear false witness against thy neighbor" or "Thou shalt not commit adultery" to a child?
For bearing false witness, Rabbi Glickman tells the child: You can remember what you see.
Then, for parents, he asks them to explain that it's good to remember what you see and tell people about it. You don't have to make things up because the things you see are amazing enough.
Rabbi Glickman begins the chapter on adultery with "Promises are treasures." He said according to the rabbis adultery isn't really about sex. At its essence it's about breaking a marital vow or promise.
"This is a wonderful way for parents to talk to their kids about faith that's not imposing," he said. "They are commandments, but I don't say you have to do this or that. But it does have that force. I just say 'Have you heard?' Have you heard, this is something we've got to do.
"I did not want to call it the 10 suggestions or the 10 tips for life or 10 good ideas, because we're commanded to do them."
With this book, Rabbi Glickman said he paves the way to the Ten Commandments as they are written so when children learn them in Bible class, they will understand them better for having read the book.
Another difficult commandment to teach to young children is "Thou shalt not kill." Rabbi Glickman writes "Don't waste."
"This one is tricky because we're allowed to have chicken for dinner, so what does it mean? I thought the simplest essence of this very difficult commandment is don't waste life and that opens up a whole slew of other things," he said.
He calls this an adult book disguised as a children's book. He said there is even an adult group using it as their book of the month.
Since Rabbi Glickman works with families so much and teaches these concepts over and over, he said he decided to write them down to see if he could make a unified whole out of them.
"I wanted to make it really easy for parents to address 10 important concepts that they want their kids to know, which happen to be in the Ten Commandments," he said. "I wanted them to be accessible. I work with lots of little kids and little kids don't understand; they want a couple of basic things."
"Have You Heard?" is available in bookstores, Amazon or directly through the publisher at schifferbooks.com.

As a manager, you probably fulfill many different roles every day.
For instance, as well as leading your team, you might find yourself resolving a conflict, negotiating new contracts, representing your department at a board meeting, or approving a request for a new computer system.
Put simply, you're constantly switching roles as tasks, situations, and expectations change. Management expert and professor Henry Mintzberg recognized this, and he argued that there are ten primary roles or behaviors that can be used to categorize a manager's different functions.
In this article and video, we'll examine these roles and see how you can use your understanding of them to improve your management skills.
Use Mintzberg's Management Roles to improve your understanding of the roles played by all managers.
The Roles
Mintzberg published his Ten Management Roles in his book, "Mintzberg on Management: Inside our Strange World of Organizations," in 1990.
The ten roles are:
Figurehead
Leader
Liaison
Monitor
Disseminator
Spokesperson
Entrepreneur
Disturbance Handler
Resource Allocator
Negotiator
From MINTZBERG ON MANAGEMENT by Henry Mintzberg. Copyright © 1989 by Henry Mintzberg. Reprinted by permission of Free Press, a division of Simon & Schuster, Inc.
The 10 roles are then divided up into three categories, as follows:
Category
Roles
Interpersonal
Figurehead
Leader
Liaison
Informational
Monitor
Disseminator
Spokesperson
Decisional
Entrepreneur
Disturbance Handler
Resource Allocator
Negotiator
Let's look at each of the ten managerial roles in greater detail.
Interpersonal Category
The managerial roles in this category involve providing information and ideas.
Figurehead – As a manager, you have social, ceremonial and legal responsibilities. You're expected to be a source of inspiration. People look up to you as a person with authority, and as a figurehead.
Leader – This is where you provide leadership for your team, your department or perhaps your entire organization; and it's where you manage the performance and responsibilities of everyone in the group.
Liaison – Managers must communicate with internal and external contacts. You need to be able to network effectively on behalf of your organization.
Informational Category
The managerial roles in this category involve processing information.
Monitor – In this role, you regularly seek out information related to your organization and industry, looking for relevant changes in the environment. You also monitor your team, in terms of both their productivity, and their well-being.
Disseminator – This is where you communicate potentially useful information to your colleagues and your team.
Spokesperson – Managers represent and speak for their organization. In this role you're responsible for transmitting information about your organization and its goals to the people outside it.
Decisional Category
The managerial roles in this category involve using information.
Entrepreneur – As a manager, you create and control change within the organization. This means solving problems, generating new ideas, and implementing them.
Disturbance Handler – When an organization or team hits an unexpected roadblock, it's the manager who must take charge. You also need to help mediate disputes within it.
Resource Allocator – You'll also need to determine where organizational resources are best applied. This involves allocating funding, as well as assigning staff and other organizational resources.
Negotiator – You may be needed to take part in, and direct, important negotiations within your team, department, or organization.
Applying the Model
You can use Mintzberg's 10 Management Roles model as a frame of reference when you're thinking about developing your own skills and knowledge. (This includes developing yourself in areas that you consciously or unconsciously shy away from.)
First, examine how much time you currently spend on each managerial role. Do you spend most of your day leading? Managing conflict? Disseminating information? This will help you decide which areas to work on first.
Next, get a piece of paper and write out all ten roles. Score yourself from 1-5 on each one, with 1 being "Very skilled" to 5 being "Not skilled at all."
Once you've identified your weak areas, use the following resources to start improving your abilities in each role.
Figurehead
Figureheads represent their teams. If you need to improve or build confidence in this area, start with your image, behavior, and reputation. Cultivate humility and empathy, learn how to set a good example at work, and think about how to be a good role model.
Leader
This is the role you probably spend most of your time fulfilling. To improve here, start by taking our quiz, How Good Are Your Leadership Skills? This will give you a thorough understanding of your current abilities.
Next, learn how to be an authentic leader, so your team will respect you. Also, focus on improving your emotional intelligence – this is an important skill for being an effective leader.
Liaison
To improve your liaison skills, work on your professional networking techniques. You may also like to take our Bite-Sized Training course on Networking Skills.
Monitor
To improve here, learn how to gather information effectively and overcome information overload. Also, use effective reading strategies, so that you can process material quickly and thoroughly, and learn how to keep up-to-date with industry news.
Disseminator
To be a good disseminator you need to know how to share information and outside views effectively, which means that good communication skills are vital.
Learn how to share organizational information with Team Briefings. Next, focus on improving your writing skills. You might also want to take our communication skills quiz, to find out where else you can improve.
Spokesperson
To be effective in this role, make sure that you know how to represent your organization at a conference. You may also want to read our articles on delivering great presentations and working with the media (if applicable to your role).
Entrepreneur
To improve here, build on your change management skills, and learn what not to do when implementing change in your organization. You'll also need to work on your problem solving and creativity skills, so that you can come up with new ideas, and implement them successfully.
Disturbance Handler
In this role, you need to excel at conflict resolution and know how to handle team conflict. It's also helpful to be able to manage emotion in your team.
Resource Allocator
To improve as a resource allocator, learn how to manage a budget, cut costs, and prioritize, so that you can make the best use of your resources. You can also use VRIO Analysis to learn how to get the best results from the resources available to you.
Negotiator
Improve your negotiation skills by learning about Win-Win Negotiation and Distributive Bargaining.
You might also want to read our article on role-playing – this technique can help you prepare for difficult negotiations.
Key Points
Mintzberg's 10 Management Roles model sets out the essential roles that managers play. These are:
Figurehead
Leader
Liaison
Monitor
Disseminator
Spokesperson
Entrepreneur
Disturbance Handler
Resource Allocator
Negotiator
You can apply Mintzberg's 10 Management Roles model by using it as a frame of reference when you want to develop your management skills. Work on the roles that you fulfill most often as a priority, but remember that you won't necessarily fulfill every role as part of your job.
Get the Free Newsletter
Learn new career skills every week, and get our Personal Development Plan Workbook FREE when you subscribe.